FOR INSTALLATION and Removal of SSD – Please refer INSTALLATION Procedure on the bottom / Refer Manual: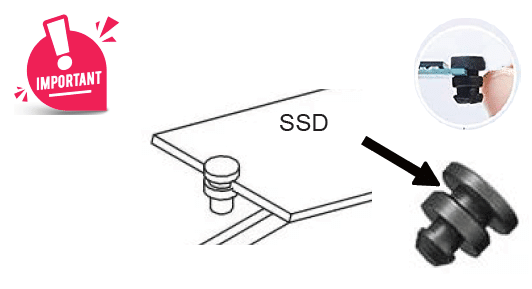 【Unlock Seamless Compatibility:】 Our PiBOX India M.2 SSD Enclosure is meticulously crafted to accommodate B-Key and M+B Key SATA NGFF based SSDs, ranging from the versatile 2280 to the compact 2230, all the way up to a capacious 2TB. Seamlessly connect your M.2 SSD to laptops, PS4, Xbox, and more for lightning-fast data transfers, storage expansion, secure file backups, data retrieval, system upgrades, and disk cloning.
【Blazing 5 Gbps Data Speed:】 Harness the power of USB 3.1 Gen2, M.2 SATA III, and UASP (USB Attached SCSI Protocol) in our enclosure, delivering a remarkable 6Gbps data transmission rate. It outpaces traditional USB 3.1 devices by a staggering 70%, eliminating tedious wait times. Our advanced Realtek chipset guarantees swift data transfers while safeguarding your SSD and invaluable data. (Includes USB-A to USB-C cable)
【Effortless Operation:】 Experience plug-and-play simplicity with tool-free installation—no drivers required for this enclosure. Slide open the rear cover, place your M.2 SSD into the B-Key or M&B-Key slot, secure it with the provided rubber fasteners, and close the case. No external power supply is needed, and it supports hot-swapping. Its compact, portable design, clad in a sleek aluminum shell, makes it easy to carry on the go.
【Reliable and Sturdy:】 Crafted from premium aluminum alloy, the PiBOX India enclosure excels at dissipating heat, obviating the need for a cooling fan during high-speed operation. It boasts short-circuit, over-current, and over-heat protection, ensuring the safety of your NGFF SATA SSDs and critical files. Furthermore, it features S.M.A.R.T functionality to monitor your M.2 SSD's status, while the LED indicator provides instant status updates.
【Versatile Compatibility:】 Our enclosure extends compatibility to Windows 10/8/7/XP/Vista, Mac OS, Linux, and Chrome OS. It accommodates a wide array of SATA NGFF based M.2 SSDs, including popular models such as Samsung 860 EVO / 850 EVO M.2 SATA III SSDs, WD Green M.2 2280, WD Blue 3D NAND SATA SSDs, Crucial MX500 / MX300 M.2 2280, Kingston A400 / UV500 M.2 2280, ADATA SU800, SL700, YUCUN M.2 NGFF SSDs, DREVO D1, and more.
INSTALLATION STEPS:
1. Press the 'OPEN' button on the M.2 SSD Enclosure and pull out the plastic inner frame.
2. Insert the SSD in place
3. SSD+Retention Plug Assembly : Match the groove of the tiny plug with the SSD. Refer Images below.
Install the Plug first on SSD and then push down.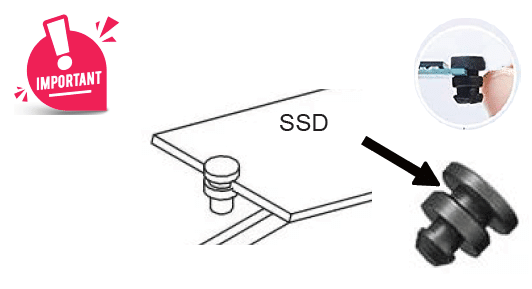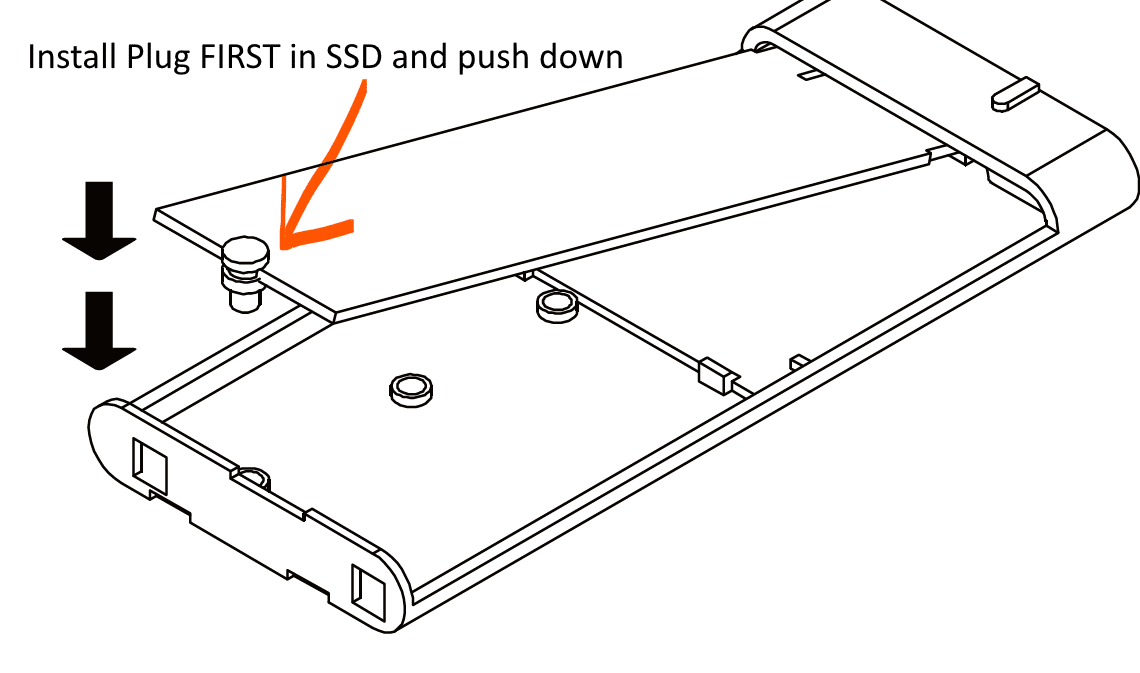 4.Push the SSD+retention plug assembly into the appropriate slot on the enclosure, to lock the plug in the slot.
5. Push the inner tray into the enclosure until it clicks into place. Follow the "IN" mark for direction to insert. If the plug obstructs the inner frame from closing, please check step 3. 
6. Connect the unit to a PC with the cable. While connecting a new SSD for the first time, if the SSD is not detected – please create partitions/format if needed and assign drive letters under disk management.
REMOVE THE SSD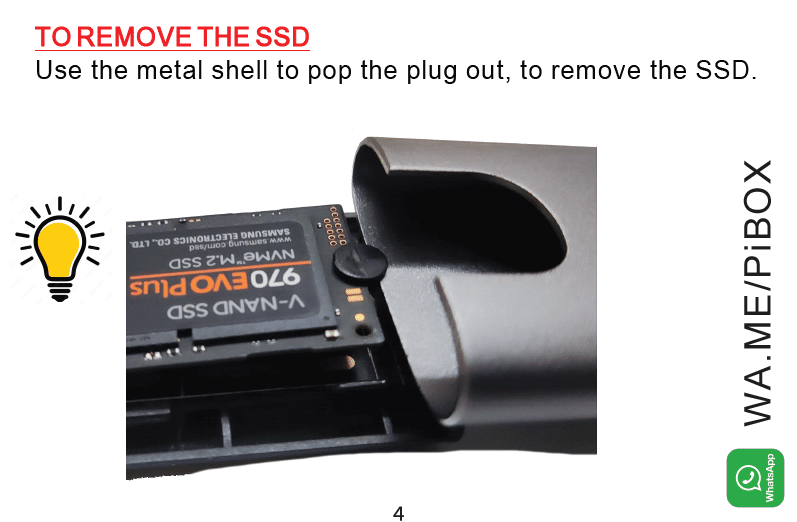 FAQ
If your computer can't recognize the SSD enclosure:To set up the new SSD, begin by accessing the disk management tool and initiating the disk initialization process. Follow the provided steps to ensure the SSD is detected and ready for normal use.
How to start disk management?
Right click "Computer" – "Manage" – "Disk Management". Find your unallocated disk, right click "Unallocated", and choose "New Simple Volume Wizard"
How to start disk management (in windows 10)?
Click Start -> Run -> type compmgmt.msc -> click OK. Alternatively, right-click on the My Computer icon and select 'Manage'. In the console tree, click Disk Management.
Regarding "Format" issue:
If you want to work on both Mac and Windows OS, please choose
EXFAT format.
Overheating Protection:
When your SSD experiences overheating during large data transfers, the enclosure will activate the automatic overheating protection.This may result in the enclosure going into read-only mode or temporarily halting the data transfer to prevent SSD damage.
This protective measure not only safeguards your SSD from potential harm caused by overheating but also enhances its overall lifespan.